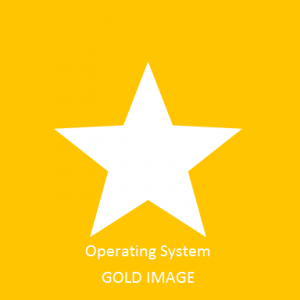 Operating System Gold Image – Core Applications and core utilities (Dependencies)
For the majority the standard computer gold image should be made up of blend of most compatible applications for all users. However, it is very important that this blend consists of vendor supported applications and is forward thinking in terms of where the company want to be in terms of software versions at the end of any virtualization VDI project or desktop refresh project. For a lot of companies redeveloping their line of business critical applications to support the latest operating systems is a project in itself and sometimes overturned decisions to force old application installations onto modern operating systems is the one and only single source of virtualization project failures.
Gold image layers and responsibilities
A typical computer can carry multiple responsible service members and so it is very important that all the layers of changes are catalogued in a contract to quantify the service persons accountable and responsible for those layers.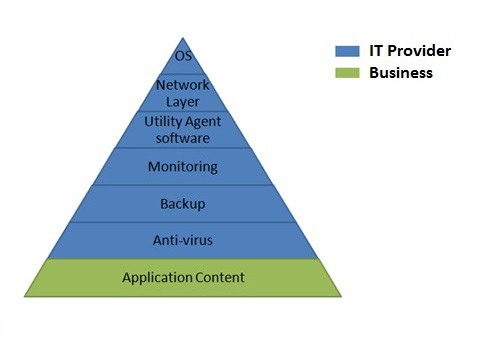 Virtual Desktop Gold Images – Rapidly deployed and update managed.
With disk image technologies like Citrix Provisioning Server, Citrix Machine Creation Services or VMWare Linked clones or VM Template provisioning, making changes to a single virtual desktop gold image and attaching this gold disk to hundreds of computers in minutes is a very fast and time saving approach to software rollout projects. However, usually with gold image changes, there is a tendency to be a great deal of risk management associated with gold image changes and typically what a business think can technically be rolled out in a very short time generally becomes a lengthy risk managed, tested and heavily governed turn around, especially when multiple support vendors are responsible for up time of the computers. E.g. Local IT software change initiator, Cloud Provider responsibility and SLA associated with Windows Patch management and up time of the OS layer.
When it comes to cloud virtualisation products the key driver behind a successful projects is the ability for all applications to be consolidated, harmonized and co-exist within a central platform. This carries many challenges when you have opted in for Desktop as a service. It is important that the application teams who are responsible are driving a readiness programme for the software used.
SCCM and App-V are two commonly used products to lighten the burden on application delivery and installation times from a central location. Most of these technologies are layers over the top of a base line computer OS and core application layer referred to as the "Gold Image".
READ MORE
Physical End User Device Gold Image – Thin Clients, Laptops, Workstations and other devices.
There are various technologies to help with physical end user device gold image management too:
HP Thin Clients – HP Device Manager / Symantec – Altiris
Igel Thin Client Devices – Igel Universal Management Suite
WYSE Thin Clients – Wyse device manager
Standard computers – Symantec Ghost, Windows Deployment Services (WIM Imaging), Microsoft Deployment ToolKit (MDT)
Mobile Device Management (MDM) – Citrix XenMobile, Microsoft Enterprise Mobility Suite (Microsoft Intune), AirWatch
Application Self Service
Deploying applications and software updates over the top of the standard gold image is a popular choice for many companies.  It allows for personal self service application delivery options to meet end user demands and is also an efficient means to ensure business productivity.
Many technologies can help with self service options:
Microsoft Group Policy – Software deployment Package advertising
SCCM – Deployment of application software to windows computers
Microsoft App-V
RES  IT Store – Web Shop front end for RES Automation

RES Automation Manager – Highly flexible automation engine

Citrix XenMobile App Controller – you can deploy a lot of different types of applications including Android Apps (APK files or MDX files for wrapped), iOS Apps (IPA files or MDX files for wrapped), Web & SaaS, Web Links or Apps directly from iTunes or the Google Play store.