What is Virtualization?
Virtualization refers to technologies designed to provide a layer of abstraction between computer hardware systems and the software running on them. By providing a logical view of computing resources, rather than a physical view, virtualization solutions make it possible to do a couple of very useful things: They can allow you, essentially, to trick your operating systems into thinking that a group of servers is a single pool of computing resources. And they can allow you to run multiple operating systems simultaneously on a single machine.
Virtualization has its roots in partitioning, which divides a single physical server into multiple logical servers. Once the physical server is divided, each logical server can run an operating system and applications independently.
Benefits of Virtualization
Beyond the potentially dramatic cost savings, virtualization can greatly enhance an organization's business agility. Companies that employ clustering, partitioning, workload management and other virtualization techniques to configure groups of servers into reusable pools of resources are better positioned to respond to the changing demands their business places on those resources.
Also, this technology offers the potential for a fundamental change in the way IT managers think about computing resources. When managing individual boxes becomes less of a challenge, the focus of IT can shift from the technology to the services the technology can provide.
Reduced Costs – One of the biggest advantages associated with using virtualization in your IT infrastructure is the ability to cut Costs. You know longer have to invest in incredibly expensive equipment and in-house IT professionals, but can simply get access to the same type of software and servers through the use of virtualization. Virtualization is designed to be incredibly affordable and you can save so much money by not having to purchase hardware outright. All servers are owned and maintained by a third party and you simply pay for virtualization services without having to incur additional costs. You get the best of both worlds as a result.
Energy Efficiency – Virtualization is seen as revolutionary for a number of different reasons and the most impact may be the energy savings. With the implementation of virtualization in your business, you have the ability to lessen the carbon footprint of your business immensely. The data and energy savings that you could be making on the use of less hardware and server footprint can make a huge difference. If you an environmentally conscious business, virtualization is the way to go.
Complete Visibility
Reduced server/data centre footprint
Improved fail-over and redundancy
Zero-downtime hardware maintenance
Rapid server, application and capacity provisioning
Fast, easy and portable test and demonstration environments
Consolidation of application workspaces and licensing.
The list goes on …
Types of Desktop Virtualization for End Users
Shared Session Host Computing (Remote Desktop Services/Terminal Services)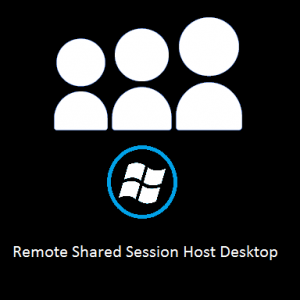 Shared Session is the term for a computer session provided to an end user from a server that shares multiple slices of the computer's operating system desktop and resources to multiple users by means of remote control.
A single user remote controls the shared session desktop using Remote desktop technology which makes it possible to view another computer's desktop on your computer.  This means you can open folders, move files, and even run programs on the remote computer, right from your own existing access device whether that be a tablet, ageing PC, home computer or mobile device. The users may be connected to the central server through a LAN, WAN or over the Internet.
One computer operating system to many users
A Virtual Shared session host computer specification:
One Server = One shared CPU, One shared RAM, one shared hard disk. NO Physical Graphics Card.
VDI (Virtual Desktop Infrastructure/Desktop Virtualization)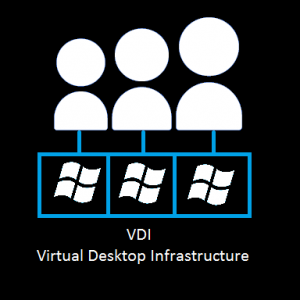 Desktop virtualization provides a way for users to maintain their individual desktops on a single, central server. There is a major difference between shared session host and true VDI Desktop virtualization.
The major differences between Shared Session Host Computing and VDI is that each user accesses their own desktop operating system, own CPU, own RAM, own Hard disk rather than shared session resources on a single server operating system.
Many Computer Desktop Operating systems to many users.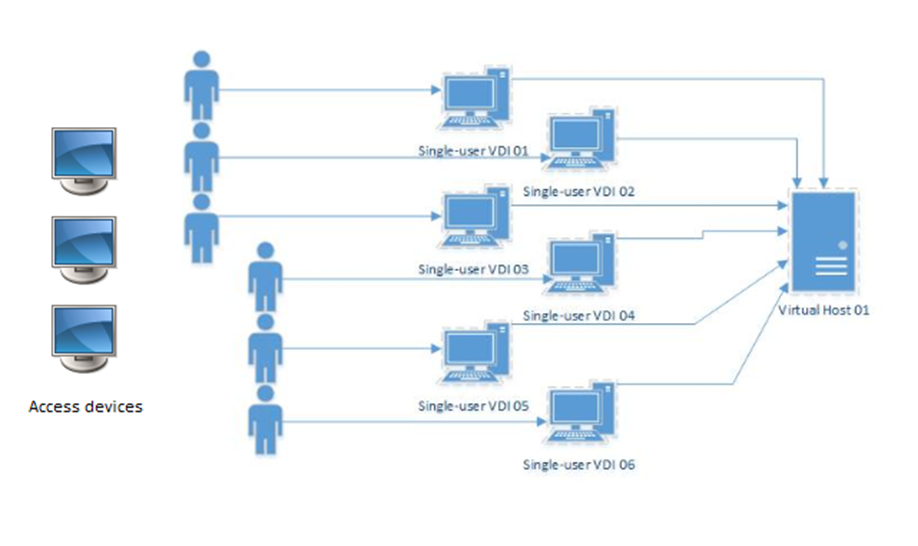 A Virtual Desktop computer specification:
One desktop OS per user = User Allocated CPU, User Allocated RAM, User Allocated disk. NO Physical Graphics Card. (Complex Hypervisor Resource sharing at the back end).
One of the misunderstood issues with VDI is that despite the users taking advantage of owning their own resources of operating  system, CPU, RAM and Hard disk they are often not noticing that the Hypervisor is performing all the sharing trickery at the backend physical layer. Sometimes Virtualization Consultants and data centre operators can overcommit physical resources by as much as up to 3:1 ratios where virtual machines may not require constant cpu cycles during business hours.. A badly designed VDI project may result in the Hypervisor operator causing major performance problems if  overcommit charge ratios on the physical servers are overlooked.
What is Application Virtualization?
Virtualization in the application layer isolates software programs from the hardware and the OS, essentially encapsulating them as independent, moveable objects that can be relocated without disturbing other systems. Application virtualization technologies minimize app-related alterations to the OS, and mitigate compatibility challenges with other programs.
I am particularly familiar with the following application virtualization technologies:
Microsoft App-V
VMWare ThinApp
Citrix application streaming. Coming soon too is Citrix AppDisk which looks very promising.
User settings Virtualization
So you've virtualized your desktop and your applications so where do all your personal settings and preferences for these applications get stored and managed?
There has been a constant call for cloud based storage of personal application settings which can be agile enough to sync from device to device. Take a mobile smart phone for example if you lost the phone, traditionally the phone contacts may have been held on the sim card and so you lose all of them. Same principals applies to virtual desktops. These virtual desktops are typically stateless, so personal settings have to be saved and managed elsewhere. More and more ways for these setting to be agile and seamless are a key success driver for a harmonized end user computing experience.
I have experience in the following technologies that help your personal computer user settings and computer experience stay personal and consistent:
RES Workspace Manager (RES ONE Workspace)
AppSense
Citrix UPM
Microsoft U-EV
What is a Hypervisor?
The hypervisor is the most basic virtualization component. It's the software that decouples the operating system and applications from their physical resources. A hypervisor has its own kernel and it's installed directly on the hardware, or "bare metal."  It is, almost literally, inserted between the hardware and the OS.
What is a Virtual Machine?
A virtual machine (VM) is a self-contained operating environment—software that works with, but is independent of, a host operating system. In other words, it's a platform-independent software implementation of a CPU that runs compiled code. A Java virtual machine, for example, will run any Java-based program (more or less). The VMs must be written specifically for the OSes on which they run. Virtualization technologies are sometimes called dynamic virtual machine software.
Desktop Virtualization Technologies
Below are some examples of the technologies I can provide solutions for:
Shared Session Host
Microsoft Shared session Based Remote desktop services / Remote App
Citrix XenApp
VDI (Virtual Desktop Infrastructure/Desktop Virtualization)
Citrix XenDesktop
VMWare View
Microsoft Personal Virtual Desktops/ Pooled Virtual Desktops
Hypervisor Technologies
Hyper-V
VMWare VSphere /ESXi
Citrix Xen Server